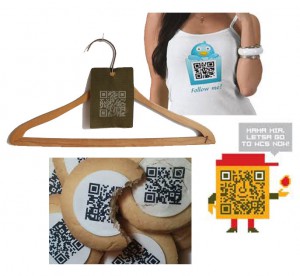 Business cards.  The most common use, but effective.
Scavenger hunts. Helpful for getting visitors to check out places they might not otherwise go.
Labeling.  Take people to a mobile site where they can learn more about or even buy your product(s).
Storefront displays. Post a Shop Online Now! QR code for after-hours visitors. A potential lost sale turns into an online customer who'll share a lot more of their contact information with you.
Discounts and giveaways. Create discounts that are specific to the QR codes. Run the codes in ads or post throughout your store. Turn them into a "retweet" so that your shoppers share their discount with their followers.
Garments. Put your QR on garments or accessories. For more engagement, put different messages on the irems, so people take more scans of more of your codes.
Go after Likes and Follows. Create mobile-friendly landing pages with Facebook like buttons or lead them to your Twitter page for a quick follow. A like or follow can create a long-term marketing opportunity.
Supplement your retail space.  Link to how-to videos, or info about how products were sourced. Bring visitors to review sites for unbiased reviews of products, or to an e-commerce site to find out-of-stock items.
Build your email subscriber list. Use your QR code to send people to your email signup. Give people a compelling reason to subscribe.
Get the phone ringing. QR codes can make a phone call or generate SMS text messages.
Excerpted from BY FC EXPERT BLOGGER RICH BROOKS
http://www.fastcompany.com/1720193/13-creative-ways-to-use-qr-codes-for-marketing