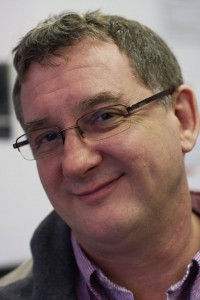 Today we are all mourning the loss of Brian Knoblock, guru and friend.  Brian has been a part of the ZimmerFish family, keeping our wires uncrossed, responding to absolutely any need at any time, pushing us to keep up with one cool app or gadget after another.  He built our Web site. He made us laugh and his enormous heart filled ours.
Unassuming and kind beyond measure, a true mensch.  We can't imagine our lives without him.  He'll be remembered daily, as we have our Brian questions. We'll miss his expertise and willingness to explain things, of course, but we'll work that out.  What we can't do is get him back.
We love this photo, as you can see his intelligence, sweetness, and the warm sparkle in his eye.  His sunset photo, one of so many fine shots he took, seemed fitting.  Who knows where he would have taken his photography next?
Brian, we're going to miss you so!